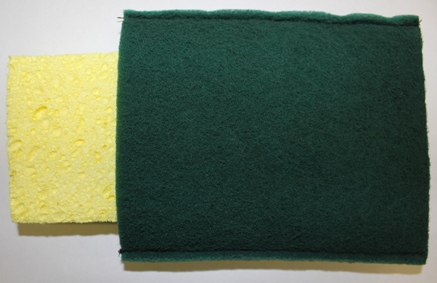 | PART # | DESCRIPTION |
| --- | --- |
| SP0127 | Scrubber and Sponge |
| SP0235 | Scrubber |
Related products
| PART # | PRODUCT NAME | PACKAGING |
| --- | --- | --- |
| SP0813 | EVERCLEAN DRY CLOTH OSPW812-P31 | 25 ROLLS/CASE |

PACKING OPTIONS

POLYESTER PACKING

Adhesive or non-adhesive backing available
Cut to size
Tight height tolerances
Reusable — reduces changeover time for plates and blankets
Easy to remove

PAPER PACKING

Press Ready

Custom cut, always square, dimensions within 1/16″

Available in sheets and rolls
Precise caliper
Superior density, won't crush
Won't absorb press liquids — fewer cracked plates
Less creeping

STITCHING WIRE FOR ALL MACHINES

Our wide range of superior wire will run consistently and smoothly because of the state of the art low-tension spooling process and pre lubrication for less wear on the stitcher heads.

STITCHING WIRE OFFERINGS

Galvanized – "G"
X & XXX grades – "X" or "XXX"
Tinned Wire – "T"
Liquor Finish (Brassy) – "LF"
Stainless Steel Wire – "SS"
Spiral Binding Wire
Box Wire
Bale Wire
Copier Spools for Xerox & Kodak machines

GALVANIZED VS. TINNED

Galvanized wire is the standard wire and used by many printers and binders.  The tinned wire is more expensive and offers a more oily finish that may leave less residue on the stitcher heads.

HARDNESS CHOICE

High Carbon provides a strong driving force for thicker books.  The higher the carcon, the more wear on the machine's stitcher heads.  It is recommended that the standard wire is tried before switching to a higher carbon wire.

STANDARD

Economical and smooth running, suitable for light to moderate work.

"X"

Mid Grade – More carbon for improved driving strength and stitching quality.

"XXX"

Triple carbon for thick work and specialty jobs.