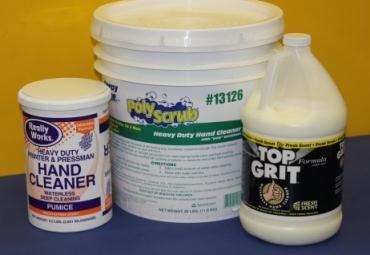 | PART # | DESCRIPTION |
| --- | --- |
| SP0026 | CLEANER, REALLY WORKS 131 |
| SP0039 | CLEANER, HAND TOP GRIT |
| SP0388 | CLEANER, POLY SCRUB 26lb Pail |
| SP0485 | CLEANER, COCOA SCRUB |
Related products
PACKING OPTIONS

POLYESTER PACKING

Adhesive or non-adhesive backing available
Cut to size
Tight height tolerances
Reusable — reduces changeover time for plates and blankets
Easy to remove

PAPER PACKING

Press Ready

Custom cut, always square, dimensions within 1/16″

Available in sheets and rolls
Precise caliper
Superior density, won't crush
Won't absorb press liquids — fewer cracked plates
Less creeping

STITCHING WIRE FOR ALL MACHINES

Our wide range of superior wire will run consistently and smoothly because of the state of the art low-tension spooling process and pre lubrication for less wear on the stitcher heads.

STITCHING WIRE OFFERINGS

Galvanized – "G"
X & XXX grades – "X" or "XXX"
Tinned Wire – "T"
Liquor Finish (Brassy) – "LF"
Stainless Steel Wire – "SS"
Spiral Binding Wire
Box Wire
Bale Wire
Copier Spools for Xerox & Kodak machines

GALVANIZED VS. TINNED

Galvanized wire is the standard wire and used by many printers and binders.  The tinned wire is more expensive and offers a more oily finish that may leave less residue on the stitcher heads.

HARDNESS CHOICE

High Carbon provides a strong driving force for thicker books.  The higher the carcon, the more wear on the machine's stitcher heads.  It is recommended that the standard wire is tried before switching to a higher carbon wire.

STANDARD

Economical and smooth running, suitable for light to moderate work.

"X"

Mid Grade – More carbon for improved driving strength and stitching quality.

"XXX"

Triple carbon for thick work and specialty jobs.

RBP Chemical Technology Inc. is a distributor of the full line of products from wiper and sorbent manufacturer, SELLARS® WIPERS. All products are made in the USA and drop shipped to your location. With our buying power, RBP can offer truckload prices from a box to a skid.

See more at www.sellarscompany.com

---

SELLARS® RUBBIN RAGS

Pre-moistened, multi-purpose, non-scratching, powerful hand and surface degreasing cleaner. Refreshing citrus scent.

72 sheets/bucket; 6 buckets/case.

---

SELLARS® Z400 1/4 FOLD WIPERS

Works like cloth, soft on hands and face. 12.5″ X 13″ sheets, ideal for press and plate cleaning. 1/4 Folded for ease of use. Made with 25% recycled fibers.

60 sheets/bundle; 12 bundles/case.

---

SELLARS® STANDARD 4′ SOCKS

Universal sorbent, soaks up to 52 gallons of both oil and water. Made with 80% recycled cellulose fibers. Oil only socks also available.

40 socks/box.

---

SELLARS® BARREL TOP SORBENT PADS

Absorbs oil, water, grease and many other fluids to help keep liquids from getting on the floor. 22″ Diameter. Made from 80% recycled fibers.

10 pads/case

---

SELLARS® PREFERRED SORBENT ROLLS

Absorbs up to 42 gallons of both oil and water per roll. 28.5″ X 75′ roll. Perforated every 19″ across, as well as down the center of the length of the roll for the perfect fit for any job. Also available in split rolls and in oil only.

1 roll/box.

---

SELLARS® STANDARD SORBENT PADS

Absorbs up to 29 gallons of both oil and water. Each 15″ X 19″ pad absorbs up to 29% more than the leading competitors' heavy-weight meltblown pad. Made with 80% recycled cellulose fibers. Oil only pads also available.

100 pads/box.