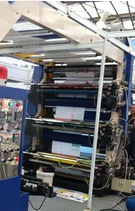 RBP rolled out LoxClean, a newly developed anilox roller cleaner formulated to remove and lift embedded ink from all types of anilox rollers.
Discover what makes this product the right choice for your flexo graphics operation:
An

ilox

Roller

and Gener

al Purpose Cl

eaner
The newly formulated LoxClean is specifically designed to remove water or aqueous based inks quickly and efficiently from the anilox roller.
Safe for your employees and the environment
Powerful, fast-acting; dissolves ink on contact
Prevents

buildup

when used regularly
Backed by RBP's proven performance, technical support and customer service
LoxClean is non-hazardous, very low in VOC's, contains no petroleum or chlorinated solvents, and is an environmentally safe aqueous mixture that can diluted with water to remove all types of contaminants. This product, when used regularly, will restore the cell volume and prevent buildup of pigments in the anilox roller cells.
Get a closer look at this product:
View Data Sheet