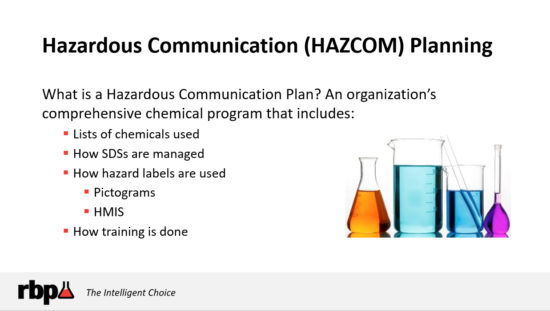 Hazardous communications are the most important part of chemistry in any industry, but it's especially important in the Medical Implant Device industry.
But developing a hazardous communication plan (HAZCOM Plan) requires you follow some best practices, as it will be organization's comprehensive chemical program.
A good hazardous communication plan must take into account the following information:
A List of Chemicals Used
Compiling a list of all the chemicals used in your organization is important. Every one of your employees has the right to know all the chemicals that are being used in your facility. From everyday cleaning products to hazardous compressed gasses and everything in between.
Safety data sheets (SDS)
Once you have your list, you make sure all chemicals used must be documented with a safety data sheet (SDS).
Safety data sheets (SDS) are a component of the Globally Harmonized System (GHS) of Classification and Labeling of Chemicals. The system standardizes hazard classification criteria and chemical hazard communication elements around the world. While the GHS is not a regulation, it is a framework that guides manufacturers through classifying and labeling hazardous chemicals to better protect people and the environment from them.
These are comprehensive documents 16 sections (see illustration) featuring the most up-to-date information on these chemicals. These sheets should be compiled in a way that I is available to all employees.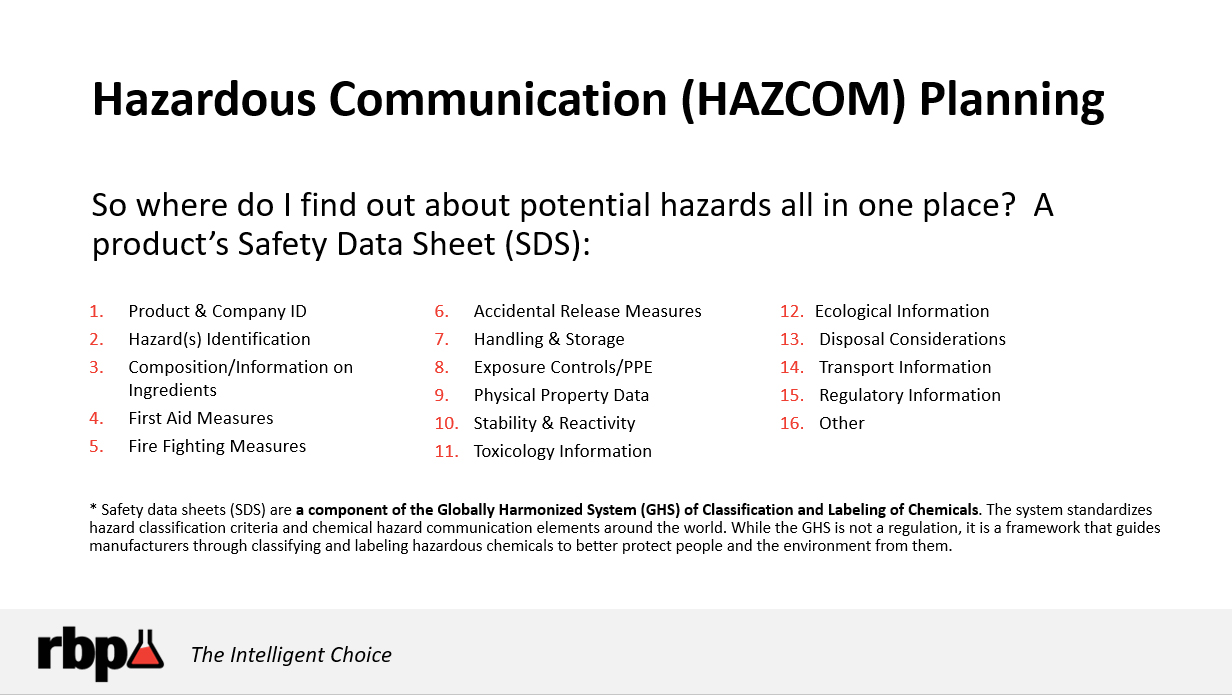 Hazardous labels
All chemicals must be clearly labeled, showing users what the dangers that exist are, and then what level those dangers are. There are two types of labels:
Pictograms: Simple labels to alert users of the chemical hazards to which they may be exposed. Each pictogram consists of a symbol on a white background framed within a red border and represents a distinct hazard(s).
Hazardous Materials Identification System (HMIS). These labels are more comprehensive. HMIS label consists of a five part rectangle, that includes: Chemical Identification, Chronic Health Hazard Indicator and Acute Health Hazard Rating, Flammability Rating, Reactivity Rating and Personal Protective Equipment (PPE) Designation.
Employee Feedback & Training
Not actually part of the documentation itself, but just as important, this is when employees are shown how to interpret the information and best practices for dealing with hazardous chemicals. It is also beneficial to get their feedback on the communication plan as it sometimes points out redundancies or missing information.
With extensive experience in chemical handling, storage and transport, RBP Chemical is here to help you develop a hazardous communication plan for your organization. For more information, contact us today.