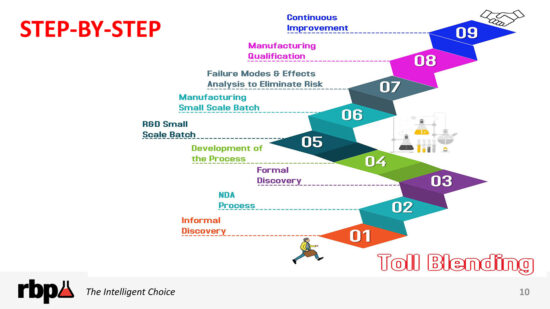 We get asked this question all the time: How does it work if I really want to outsource some of my chemical manufacturing to a toll blender? Toll Blending is a common service for chemical companies (e.g.: "toll blender") to manufacture/fulfill chemistry blending for a partner to reduce the partner's production risks or capital investments. RBP Chemical Technology works with partners around the globe to provide this service, as well as, to optimize their chemical processes.
Here are the nine steps we usually take in the toll blending process:
Informal Discovery: This is where we get to know you, you get to know us and we get a rough idea of what you're trying to do. It's the foundational base for our relationship moving forward.
NDA Process: We know we're going to be working with Intellectual Property, so we insist on both parties signing Non-Disclosure Agreements before moving forward.
Formal Discovery: Here we take a deep dive into the project by answering questions like: What are your manufacturing requirements? What's are your technical requirements? What's your analytical testing? What testing methods do you want us to utilize? What are your packaging requirements? Do you have unique or special storage conditions? Are there specific modes of transportation we need to take into account? Is this product freeze protected? And so on. With this information, we will develop a plan for moving forward.
4. Development of Process: We formulate a manufacturing process for your chemical. This includes: Raw material list, manufacturing procedures and order of addition, regulatory and packaging instructions, and PPE needed.
R&D Small Scale Batch: With the criteria you provided, we create a small batch of the product and supply it to you for testing. Based on your notes, we refine it of move it forward in the process.
Manufacturing Small Scale Batch: We'll start with a small scale batch and move up that scale after validating it in the lab. And then we'll move the step six once we have confidence as teammates and look at doing that small scale batch and manufacturing.
Failure Modes & Effects Analysis to Eliminate Risk: We take a look at every step in the process and determine the probability of mistakes what they would be. Then, we'll work with our clients to mitigate those issues before we go into full production.
Manufacturing Qualification: We start producing large, fully traceable batches. Within our enterprise resource planning system, we store information on where we get raw materials from, what operator did the mixing, batch sizes and more.
Continuous Improvement: How can we make this product safer? How can we increase product quality? How can we deliver it better? How can we reduce costs, whether a variable costs or fixed cost? These questions and more will be answered as we continue our relationship.
Want to learn more about toll blending and how RBP Chemical Technologies can help? Contact us today or check out our webinar on Custom Chemical Blending below!