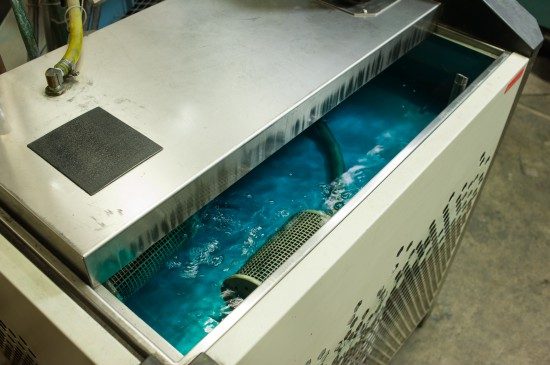 RBP Chemical Technology first introduced the Unitrol® 2500, a one-step sheetfed fountain concentrate at the Chicago Print Show in September 2013.
Prior to the launch of the Unitrol 2500, chemical manufacturers were unsuccessful in producing a quality one-step fountain concentrate for the sheetfed department.
Given that the web department has had one-step founts for several years, why was finding a solution for the sheetfed department so difficult?
If you are a manager in a sheetfed press room, you understand that the quality expectations on a sheetfed press are often much higher than that of a web press. Although some roll-fed presses exist, most conventional sheetfed presses are printing on individual sheets. Also, the ink and water ratio required for proper print production on a sheetfed press is critical and difficult for operators to maintain.
Introducing the Unitrol 2500, a solution designed exclusively for the

sheetfed

press room.
Most sheetfed operators prefer the convenience of a one-step solution; the only catch is that it has to meet the quality standards they are looking for. At the same time, managers are eager to reduce costs by eliminating the need to run an expensive alcohol substitute. The Unitrol 2500 accomplishes all of this and more.
The Unitrol 2500 is compatible with newer presses that run at higher speeds and facilitates faster make-readies. It also contains additives to help control and maintain water settings for excellent print contrast and ink densities. At the same time, the Unitrol 2500 eliminates the need for alcohol while significantly abbreviating drying time. View the Product Data Sheet.
Staying ahead of technology – why making the change is more important than ever.
Remember when the press room made the difficult transition from alcohol to alcohol substitutes, or when CTP plates were first introduced? It is clear that staying on the cutting edge is no longer optional. Today's printers are consistently forced to make technological updates, whether to remain competitive, comply with customer driven requests, or simply reduce long-term costs by becoming more efficient.
RBP's Unitrol 2500 runs on all types of sheetfed presses and delivers the one-step solution that appeals to both managers and operators within the press room. Make "the intelligent choice" and learn more about Unitrol 2500 and RBP's full line-up of sheetfed fountain concentrates in the company's proprietary online ToolBox at rbptoolbox.com/printing/. The ToolBox allows users to browse products by application or by category and to troubleshoot issues.
Related Resources:
RBPToolBox

: Unitrol® 2500
Product Data Sheet